FAQ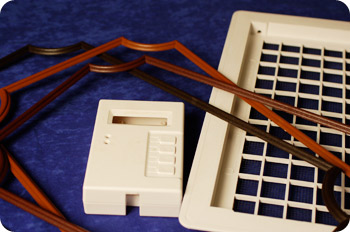 Q1- What hours are you open?
Production runs 24 hours, 5-6 days per week
Shipping and Receiving:
M-F   8 am to 4 pm
Front Office:           
M-F   9 am to 5 pm
Q2- What is the largest part you can mold?
The maximum weight is approximately 8.6 pounds.  The maximum dimensions on a part are 350 square inches for straight injection molding and 700 square inches for foam molding.
Q3- Do you build your own tools?
We have limited ability to build tooling for small sized parts, up to 2"x 4".  Outside toolmakers are used for larger or more complicated molds.  However, we do provide design engineering assistance to ensure a
well-designed production tool.
Q4- Do you have the ability to do secondary work or custom packaging on the products?
Yes, we currently have products that require sonic welding, heat staking, hot stamping and various other assemblies or secondary operations.  We have packaging equipment including shrink wrap tunnels, bag and carton sealers and automatic stretch wrappers.  We have a local supplier that does blister packaging.
Q5- Are you ISO certified?
No, we are not ISO certified, but we do have UL certification.
Q6- I have an existing tool I would like to move to your facility.  What information do you need to quote the job and how soon could you start producing parts?
Go to our Request Quote page »
Sending us an actual part will help us to provide you with a more accurate quote.  We can determine the material type and cycle based on a sample.
We also ask that you send us as much of the information below as possible:
Material Type -
Mold Size -
Part weight and size -
Cycle Time -
Number of Cavities -
Packaging Requirements (Quantity/Box, Shrink Wrap or Bagging, Special Labeling) -
Additional Assembly -
We understand that changing manufacturers is very stressful and we strive to provide the fastest, easiest transition as possible for all our new customers.  Provided we have the correct grade of resin in stock and the production tool is well maintained, we can start producing parts 2-3 days from when we receive the tool.  Our average turnaround is 6 days because many tools require significant cleaning and polishing before they are ready for production.  Our slowest turnaround times have been on internationally produced tools that have never been run in the US.  For these tools, we may have to order custom fittings, pins etc and it could take up to 6 weeks for us to start producing parts. 
Q7- I have an idea for a product.  Where do I start and how much will it cost?
We have a wide variety of customers ranging from individuals to large corporations.  For all new products, we'd first like to set up a meeting to discuss the application of the product and decide on the best material and design to meet the needs of the application.  Once the part specifications are determined, we can do a preliminary quote on tooling and piece-part pricing. 
The next step typically is to build a prototype.  Prototypes normally take 1-2 weeks and cost $200-1,000 depending on the complexity of the part design. 
Once a prototype is approved an aluminum or steel mold is designed and built for production.  This process varies from 4-20 weeks and will cost $5,000 and up based on part size and complexity. Parts smaller than 6" may be significantly cheaper and have a much shorter mold production times.